Campus tours
Come and get a feel for uni life at one of our campuses – Albury-Wodonga, Bathurst, Dubbo, Orange, Port Macquarie or Wagga Wagga. Book a tour time that suits you – we're available on any working day of the year.
Future Careers and Work Forum: Career Reinvention
What does the future of work look like and how can you overcome the challenges of the last two years and reconnect with your career goals? Join Olympian, Commonwealth Games athlete and IBM consultant Lisa Weightman at this interactive online event, Future Careers and Work Forum.
Wednesday 16 February 2022, 6.30–8.00pm.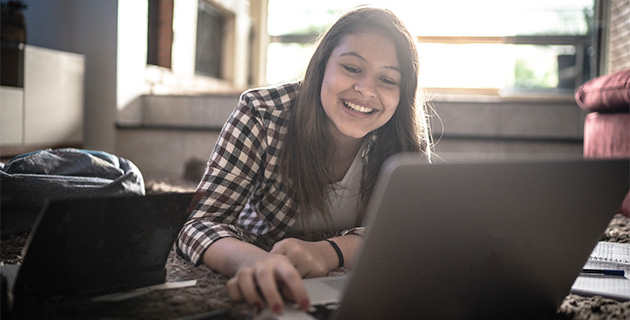 Open Days
Our online Open Day has been and gone but you can still check out our campuses, accommodation and state-of-the-art facilities.
Discover your study options, what uni life is like and what we have to offer! It's all ready and waiting at our on demand Open Day info hub.
| | | |
| --- | --- | --- |
| 17 December 2021 - 18 December 2021 | ATAR Advice Day | Our team will be on hand to help with any preference, course or enrolment questions you may have. |
| 8 March 2022 | Explore Day - Port Macquarie | Are you ready to get hands-on and explore your future career? If you're in Year 10, 11 or 12 – this one is for you. |
| 15 March 2022 | Explore Day - Bathurst | Are you ready to get hands-on and explore your future career? If you're in Year 10, 11 or 12 – this one is for you. |
| 16 March 2022 | Explore Day - Orange | Are you ready to get hands-on and explore your future career? If you're in Year 10, 11 or 12 – this one is for you. |
| 22 March 2022 | Explore Day - Wagga Wagga | Are you ready to get hands-on and explore your future career? If you're in Year 10, 11 or 12 – this one is for you. |
| 29 March 2022 | Medicine information night - Online | Got your sights set on a career in rural or regional medicine? Join us to find out everything you need to know about our Doctor of Medicine. |
| 29 March 2022 | Explore Day - Albury | Are you ready to get hands-on and explore your future career? If you're in Year 10, 11 or 12 – this one is for you. |
| 30 March 2022 | Explore Day - Dubbo | Are you ready to get hands-on and explore your future career? If you're in Year 10, 11 or 12 – this one is for you. |
| 5 April 2022 | Parent Information Session- Albury and Orange | |
| 6 April 2022 | Parent Information Session- Wagga Wagga, Bathurst and Port Macquarie | |
| 28 April 2022 - 30 April 2022 | VCE Expo- Melbourne | |
| 4 May 2022 | Career Adviser Seminar - Bathurst | |
| 5 May 2022 | Career Adviser Seminar - Orange | |
| 10 May 2022 | Parent Information Session- Online | |
| 11 May 2022 | Career Adviser Seminar - Wagga Wagga | |
| 12 May 2022 | Career Adviser Seminar - Albury | |
| 18 May 2022 | Career Adviser Seminar - Dubbo | |
| 24 May 2022 | Career Adviser Seminar - Sydney | |
| 25 May 2022 | Career Adviser Seminar - Port Macquarie | |
| 2 June 2022 - 5 June 2022 | HSC/Careers Expo- Sydney | |
| 23 June 2022 - 26 June 2022 | Western Sydney Expo | |
| 7 August 2022 | Open Day – Port Macquarie | |
| 14 August 2022 | Open Day – Wagga Wagga | |
| 21 August 2022 | Open Day – Albury | |
| 28 August 2022 | Open Day – Bathurst | |
| 4 September 2022 | Open Day – Orange | |
| 11 September 2022 | Open Day – Dubbo | |