Campus tours
Come and get a feel for uni life at one of our campuses – Albury-Wodonga, Bathurst, Dubbo, Orange, Port Macquarie or Wagga Wagga. Book a tour time that suits you – we're available on any working day of the year.
You'll go behind the scenes with one of our current students and check out our amazing learning and teaching facilities, student amenities and support services.
Parent Information Session
Join us for a Parent Information Session and get the whole picture about your child's journey from high school to uni. We'll step you through early offer programs, applications, paths into uni, accommodation options and our student services. Plus, our experts will be available to answer specific course questions.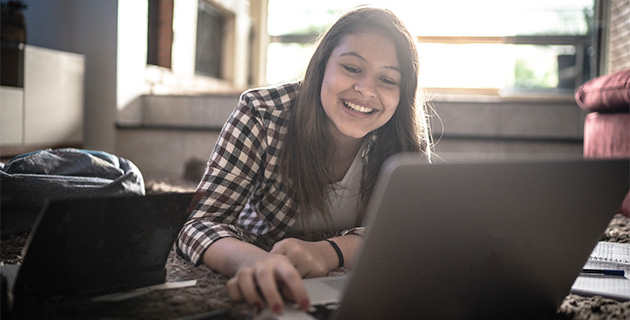 Open Days
Open Day – Your story begins here!
Change is happening at Charles Sturt. We're transforming our campus Open Day into an online event. Join us online on 15 August for your COVID-safe chance to unlock everything you need to know about getting into uni.

Be inspired by our academics and chat to current students about what Charles Sturt is really like. Not to mention, there will be heaps of giveaways up for grabs.
| | | |
| --- | --- | --- |
| 10 March 2021 - 31 March 2021 | Explore Day | Are you ready to get hands-on and explore your future career? If you're in Year 10, 11 or 12 – this one is for you. |
| 16 March 2021 - 23 March 2021 | Medicine Information Night | Meet the Medicine team, and get insights into the Joint Program in Medicine, the entry requirements, career outcomes and more. |
| 6 April 2021 - 27 April 2021 | Parent Information Session | Get the whole picture about your child's journey from high school to uni. We'll step you through early offer programs, applications, paths into uni and our student services. Plus, our experts will be available to answer specific course questions. |
| 29 April 2021 - 2 May 2021 | VCE Expo - Melbourne | Got questions about life after high school? Join us at this expo and meet your future. |
| 4 May 2021 | Online Medicine Information Session | Join us online and learn about the Joint Program in Medicine, including entry requirements, career outcomes and more. |
| 5 May 2021 - 27 May 2021 | Principals Dinner | Connect with your peers, learn more about the exciting initiatives at Charles Sturt and find out how we can support you, your staff and your students. |
| 5 May 2021 - 2 June 2021 | Career Advisers Seminar | Educational professionals will get the latest on Charles Sturt courses, be able to ask questions and attend a professional development session. |
| 18 May 2021 | Campus City Expo - Midcoast Careers Expo | There'll be plenty of information for parents and students at this annual expo. |
| 1 June 2021 | Year 10 Subject Information Night | Year 10 students will be able to get a head start on their after-school adventure! Our interactive online event will kickstart career ideas, give tips on senior school subject selection and the buzz on all things Charles Sturt. Plus, our experts will be ready to field any questions from students or parents. |
| 3 June 2021 - 6 June 2021 | HSC/Careers Expo - Sydney | Got questions about life after high school? Join us at this expo and meet your future. |
| 8 June 2021 - 8 June 2021 | Charles Sturt Advantage early offer program - Info Night | Learn how our early offer program can unlock a world of possibilities – whether you're finishing Year 12 this year or coming to uni from the workforce. |
| 20 June 2021 | Online Study Expo | Find out all about Charles Sturt Uni – from the comfort of your own home – when you jump into our Virtual Open Day. |
| 22 June 2021 | Online Study Expo | Got questions about life after high school? Join us at this expo and meet your future. |
| 24 June 2021 - 27 June 2021 | Western Sydney Expo | Visit this expo and find out what Charles Sturt has to offer. |
| 15 August 2021 | Online Open Day | Join us online for your COVID-safe chance to unlock everything you need to know about getting into uni. |
| 5 September 2021 | Open Day Campus Exploration - Orange and Wagga Wagga | As an extension of Open Day 2021 you'll have the opportunity to join us on a campus tour and check out our state-of-the-art facilities and accommodation. |
| 12 September 2021 | Open Day Campus Exploration - Port Macquarie, Bathurst, Albury-Wodonga and Dubbo | As an extension of Open Day 2021 you'll have the opportunity to join us on a campus tour and check out our state-of-the-art facilities and accommodation. |
| 21 September 2021 | Online Parent Information Session | Get the whole picture about your child's journey from high school to uni. We'll step you through early offer programs, applications, paths into uni and our student services. Plus, our experts will be available to answer specific course questions. |
| 17 December 2021 - 18 December 2021 | ATAR Advice Day | Our team will be on hand to help with any preference, course or enrolment questions you may have. |