Port Macquarie - Open Day
Explore what university is really like with hands-on workshops, information sessions and tours.
Why Port Macquarie?
It's sunny, it's buzzy, it's got surf – and it's home to the newest Charles Sturt University campus. Which all makes Port Macquarie a very sweet study spot.
Located on the mid-north coast of New South Wales (NSW), Port Macquarie (shortened to 'Port' by locals) is a uni student's dream. Port is vibrant, multicultural and exciting, with plenty to see and do. The laid-back coastal city has a 'no worries' attitude and a friendly, welcoming community.
As far as campuses go, Port Mac is brand spankin' new. Our first intake of students was in March 2012 and we haven't looked back since. It was an exciting time, because it represented a new chapter for us (and our students) – our first coastal campus. It gave students from inland and regional areas the chance to study near the beach, and local students the option to access world-class higher education in their own backyard.
Port Macquarie Open Day highlights
Take our paramedicine and ambulance simulation tour.
Get involved in a panel discussion at with local business experts
Find out how you can create a world worth living in with our social work and human services courses.
Tour our state-of-the-art exercise and sports science labs.
Free stuff – food, competitions, giveaways.
What's happening on campus
Morning session - 10am-12pm
General Information

| Event | Time |
| --- | --- |
| Campus tour | 10am |
| Student life – clubs, sport and events | 10.30am |
| Charles Sturt Advantage | 10.30am |
| Campus tour | 11am |
| Participation and admission pathways | 11.30am |
| Parent information session | 11.30am |
| Accommodation tour | 11.30am |
| Accommodation tour | 12pm |
| Succeeding at university | 12pm |

Arts and Education

| Event | Time |
| --- | --- |
| Social work and human services: empower people to reach their potential | 10.30am |
| Teaching and education: get ready to make a real difference in the lives of others | 11am |
| Communication and creative industries: telling compelling stories through new technologies | 12pm |

Business, Justice and Behavioural Sciences

| Event | Time |
| --- | --- |
| Business: face the challenges and opportunities of our disruptive world | 10am |
| Business industry panel: exploring the opportunities for business careers in regional areas | 11am |
| Equal before the law: studies in criminal justice, public safety and security, and law | 11.30am |

Science

| Event | Time |
| --- | --- |
| Faculty of Science: our courses, study options and regional focus | 10.30am |
| Medicine: introducing the Joint Program in Medicine with Charles Sturt University and Western Sydney University | 11am |
| Faculty of Science: discover your path to the career your want | 11am |
| Agriculture: find your place in the future of Australia's agricultural industry | 11.30am |
| Postgraduate study and innovative research opportunities in the Faculty of Science | 11.30am |
| Nursing: discover endless career opportunities – locally and globally | 12pm |
| Rural and allied health careers: make a real difference to rural communities | 12pm |
| Tour: environmental science and outdoor recreation laboratory | 12pm |
| Exercise and sports science facilities open to visitors (self drive to Munster Street campus) | 11am-1pm |
| Allied health facility open to visitors (self drive to Munster Street campus) | 11am-1pm |
Afternoon session - 12-2pm
General Information

| Event | Time |
| --- | --- |
| Student panel | 12.30pm |
| Student life – clubs, sport and events | 12.30pm |
| Accommodation tour | 12.30pm |
| Accommodation tour | 1pm |
| UAC explained | 1.30pm |
| Participation and admission pathways | 1.30pm |
| Accommodation tour | 1.30pm |

Arts and Education

| Event | Time |
| --- | --- |
| Social work and human services: empower people to reach their potential | 12.30pm |
| Teaching and education: get ready to make a real difference in the lives of others | 1pm |
| Theology: discover what makes our courses biblically rich, vocational and integrated with practical experience | 1.30pm |
| Communication and creative industries: telling compelling stories through new technologies | 1.30pm |

Business, Justice and Behavioural Sciences

| Event | Time |
| --- | --- |
| Accounting and financial planning: supporting financial sustainability in our communities | 12.15pm |
| Equal before the law: studies in criminal justice, public safety and security, and law | 1.45pm |

Science

| Event | Time |
| --- | --- |
| Exercise and sports science facilities open to visitors (self drive to Munster Street campus) | 11am-1pm |
| Allied health facility open to visitors (self drive to Munster Street campus) | 11am-1pm |
| Exercise, sport and nutrition sciences: start your career in a fast-paced, diverse industry | 12.30pm |
| Science: why our science grads get jobs | 1pm |
| Tour: paramedicine simulation centre and ambulance | 1pm |
| Animal and veterinary sciences: careers in animal science, equine science, veterinary science and veterinary technology | 1.30pm |
| Sustainability: explore environmental career opportunities – and create a world worth living in | 1.30pm |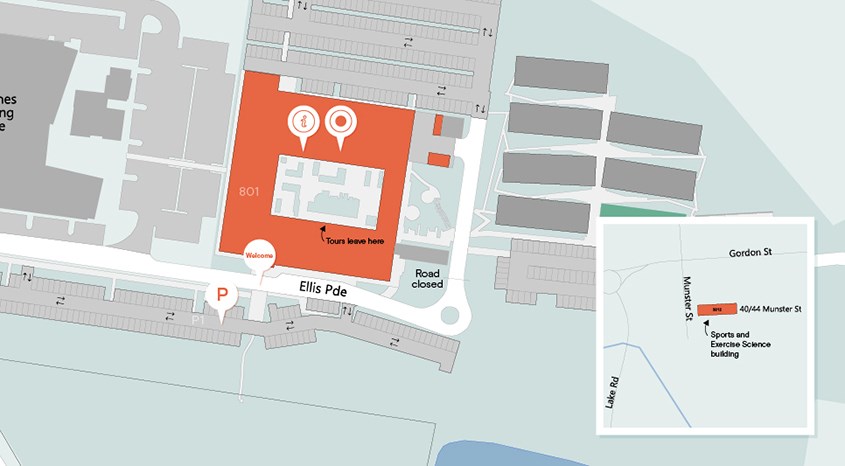 Event parking - Car Park 1

Expo hub - Back of Building 801

Info sessions - Back of Building 801

Welcome tent - Front of Building 801
Getting to campus
directions_railway Trains or Bus
You can catch a train or bus through Transport NSW
directions_car Car
By your car you can drive:
Sydney to Port Macquarie in 5 hours
Brisbane to Port Macquarie in 7 hours
Estimate your journey by using Google Maps