Explore what university is really like with hands-on workshops, information sessions and tours.
Why Dubbo?
We all know west is best – that's why Dubbo is the place to be.
It's a place where cattle farms and cafés are within minutes of each other. Where the people are relaxed, friendly and welcoming – and when they ask how you're going, they really mean it.
So if you're thinking about studying at Charles Sturt University Dubbo – it's a smart move. At our campus here, we have a tight-knit community of students and academics all working to improve people's lives. It makes for a pretty dynamic place.
So, while you're setting yourself up for an epic career – you also get a sweet lifestyle in the regions. You'll live close to where you work. You won't have to worry about traffic. And you'll have time to spend on yourself and with your family. Here in Dubbo, you can truly achieve that work-life-study balance everyone talks about.
Dubbo Open Day highlights
Take a nursing simulation centre tour.
Get involved in a panel discussion with local business experts.
Explore environmental and sustainability career opportunities.
Find out how to create a world worth living in with a social work or human services degree.
Free stuff – food, competitions, giveaways.
What's happening on campus
Evening sessions - 4-6pm
General Information

| Event | Time |
| --- | --- |
| Student life – clubs, sport and events | 4.30pm |
| Campus tour | 4.30pm |
| Participation and admission pathways | 5pm |
| Parent information session | 5pm |
| Campus tour | 5.30pm |
| UAC explained | 5.30pm |

Arts and Education

| Event | Time |
| --- | --- |
| Communication and creative industries: telling compelling stories through new technologies | 4.30pm |
| Social work and human services: empower people to reach their potential | 5pm |
| Teaching and education: get ready to make a real difference in the lives of others | 5.30pm |

Business, Justice and Behavioural Sciences

| Event | Time |
| --- | --- |
| Equal before the law: studies in criminal justice, public safety and security, and law | 4pm |
| Successful career planning: how the Bachelor of Business (Industry Professional Practice) can set you up for the future of business | 4pm |

Science

| Event | Time |
| --- | --- |
| Faculty of Science: our courses, study options and regional focus | 4.30pm |
| Medicine: introducing the Joint Program in Medicine with Charles Sturt University and Western Sydney University | 4.30pm |
| Tour: nursing simulation centre | 4.30pm |
| Rural and allied health careers: make a real difference to rural communities | 5pm |
| Agriculture: find your place in the future of Australia's agricultural industry | 5pm |
| Dentistry: servicing the oral health needs of rural and regional Australia | 5.30pm |
| Nursing: discover endless career opportunities – locally and globally | 5.30pm |
| Animal and veterinary sciences: careers in animal science, equine science, veterinary science and veterinary technology | 6pm |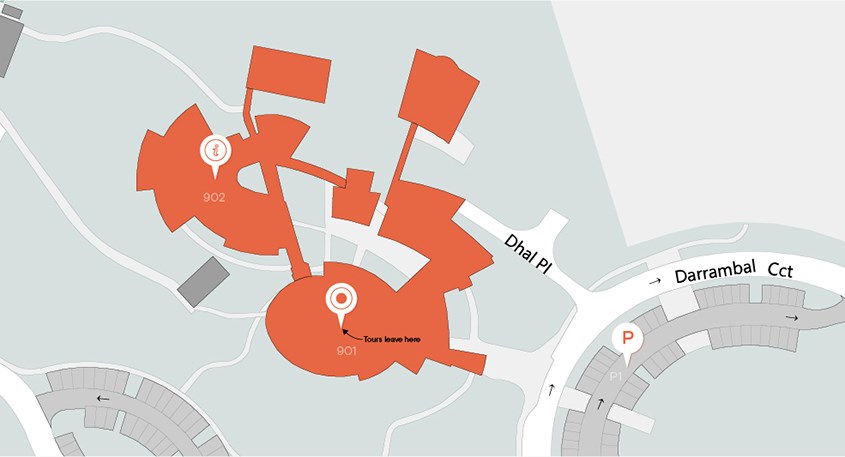 Event parking - Car Park 1

Expo hub - Building 901

Info sessions - Building 902
Getting to campus
flight Airlines
Dubbo is serviced by two airlines. It takes one hour to fly to Dubbo from Sydney.
directions_railway Trains or Bus
You can catch a train or bus through Transport NSW.
directions_car Car
You can drive from:
Sydney to Dubbo in five and a half hours.
Canberra to Dubbo in four and three quarter hours.
Estimate your journey by using Google Maps.