Thanks for getting in touch
We'll get back to you in the next two working days.
Charles Sturt University has a lot to offer, and we're here to help.
You can also call us on 1800 275 278.
The first step in joining the NSW Police Force is to complete a foundation level program – the University Certificate in Workforce Essentials (UCWE).
Since 1998, police recruit training in New South Wales (NSW) has been a collaborative effort between Charles Sturt University and the NSW Police Force. The result has been a professional and skilled police force able to respond to community needs with integrity, compassion and respect.
The UCWE is designed to prepare you for the challenges of the Constable Education Program / Associate Degree in Policing Practice (ADPP), and set you up for a rewarding policing career. The modules you study in the UCWE will provide you with common foundational learning linked to qualities highly valued by the NSW Police Force.
NSW Police Force Application Process
If you dream of a career in the NSW Police Force, these are the steps you'll need to take.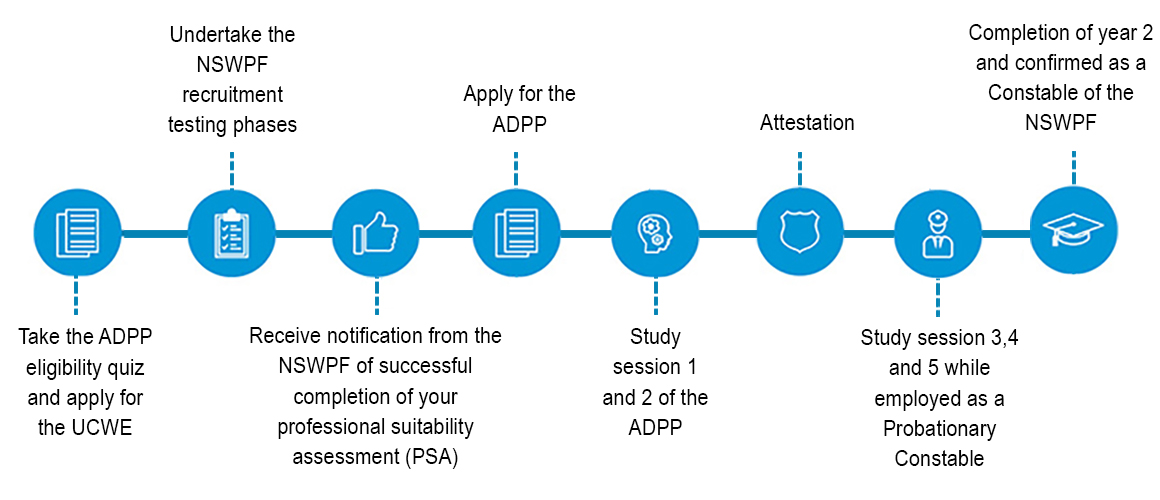 For more information and to apply visit:
help This site uses and shares cookies and similar technologies to analyse your usage and personalise your experience. You consent to our use of such technologies by proceeding. You can change your mind or consent choices at any time. Visit our legal page, privacy section for further information.
Before we take you away from our site, we want to confirm you are looking for information about research degrees at Charles Sturt.
Higher Degree by Research degrees are different to postgraduate degrees (including Honours and Master's degrees).
You can find an explanation of the similarities and differences of these study options on our levels of study information page.
No, it was an accident
Yes, take me there
Keep me here with the main future student info.
I want more information on Higher Degree by Research.