At Charles Sturt, making payments is easy.
Payment methods
You can make a payment using one of the following methods:
By Internet (WWW)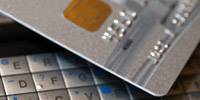 This is our preferred payment method. Please refer to the frequently asked payment questions (FAQs) page if you are a first time user. Here is our Charles Sturt secure online payment site.
Payments can be made using your MasterCard or Visa credit cards. If you use this payment method your payment details are more secure than any of the alternatives.
A receipt / payment confirmation is issued immediately, which you can record or print. You will also receive an email confirmation that the payment has been successful. The payment occurs in "real-time" so you can view the payment on your Charles Sturt University account with no delays in updating. If your results were withheld, payment of the outstanding amounts by this method will remove the restrictions immediately. The University CANNOT & DOES NOT accept payments by email.
BPAY
If you have registered with your financial institution to use BPAY, you can make a payment at anytime using your own financial institution's telephone or Internet banking connections. The BPAY website lists all participating financial institutions with BPAY facilities. You don't need a credit card to use BPAY, as this facility also allows for payments from cheque or savings accounts, depending on how you set up your payments.
To access BPAY you should contact your financial institution for information on how to use their BPAY service.
You will need to quote your BPAY Customer Reference Number. This unique number is located in the top right hand corner of your Charles Sturt University electronic statement, or beside the BPAY logo on your "Financial Balances" web page. If you have difficulty locating your Customer Reference Number, contact us on 1800 275 278 during office hours, or email Student Central.
Additionally, you will need our BPAY Biller Codes.
| Biller Code | Pays the Following Charges |
| --- | --- |
| 4036 | Accommodation only |
| 4044 | Course Fee payments |
| 4051 | Payments other than Accommodation or Course Fees |
| 40709 | Add value to your Charles Sturt Card |
PLEASE NOTE: Payments made via BPAY require overnight processing to arrive at Charles Sturt University. For more detail see paragraphs below.
If your BPAY payment is made before your bank's cut off time on a business day (see comment below regarding cut off times), your payment is transferred across to your Charles Sturt account by lunchtime the following business day. This is because each individual bank stores up its customers' BPAY payments for that day and sends them in a single file to our bank, via their overnight processing. If your payment is made after the cut off time, or on a weekend or public holiday, your payment is stored by your bank and included in the next business day's processing.
Please be aware that cut off times vary between banks. This time is usually advertised on your bank's internet banking site or available from their telephone banking service. Cut off times can vary widely from as early as 17:00 to as late as 23:00 on each business day.
IMPORTANT credit card conditions of use.
If your debit / credit card details entered online are incomplete or processing is declined by your financial institution, you will be considered not to have made the payment. It is your responsibility to ensure the details supplied are accurate and complete, and that funds are available to process the transaction. Incomplete details are the same as not signing a cheque. For privacy reasons, the banks do not provide a reason, they simply decline the transaction outright. We will try to contact you if this does happen, but accept no responsibility for delays in processing.
Note: If you incur a late payment fee or penalty, you have the right of appeal through the University. You may also have recourse through your credit provider if payment by your card is declined is due to their error.