CSUgive - Geoff Honey Memorial Scholarship
Applications closed at 11:59pm 7 Dec 2020
Available to:
Commencing Students only
Value: $3000
Duration: one off payment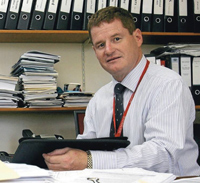 Foundation Scholarship
Geoff Honey gave 34 years of service to Charles Sturt University and the education sector and in this time developed a profound understanding of regional tertiary education. He knew first-hand the challenges regional students faced in attending university.
 
Geoff began his own career at CSU immediately after his HSC, having been awarded an administrative traineeship which gave him the opportunity to work across various departments while studying for a Bachelor of Business Management degree.  From here he progressed through the ranks to the position of Executive Director, Division of Student Administration.

The traineeship enabled Geoff to build a career that he would not otherwise have had access to and he always hoped that in turn he would have the opportunity to assist other students attend University. Geoff made this possible both through his work and through regular donations to CSU Give, which provided scholarships for students in need.
 
Geoff prided himself on providing the highest level of service and advice and was an essential part of the fabric of the University. He took great pride in all aspects of his work but particularly graduation – not just because the mechanics around graduation were always meticulous, but because he took personal satisfaction in seeing students graduate, knowing the challenges many of them had faced and understanding that what they had achieved would influence their lives thereafter.
 
Geoff Honey was a long standing, reliable, diligent, dedicated professional and one that the University is proud to call its own.
Eligibility
AVAILABLE TO:
Commencing Students
STUDY MODE: Online; On Campus; Mixed Mode (Online & On Campus)
CAMPUS: Albury-Wodonga; Bathurst; Dubbo; Orange; Port Macquarie; Wagga Wagga
MUST BE STUDYING IN:
1st Year
Any undergraduate course
Conditions:
Commencing students to have an ATAR score of 65 or above
Demonstrated financial hardship by providing a Centrelink Income Statement or outline your financial need in the 'Additional Financial Information' free text box in application
Attach evidence of your community/regional involvement through a letter of reference or certificate
Outline career goals and aspirations
Preference may given to students from rural or low SES areas / farming background /or someone who has worked in a related industry
Preference will be given to students studying on or through the Wagga Wagga campus.
Where possible, the candidate should be able to demonstrate a commitment/involvement in the CSU student community.
---
This scholarship is made possible by the contribution made by staff across CSU via CSUGive
Guidelines
The Charles Sturt University Foundation Trust distributes more than 300 student scholarships every year. These scholarships are funded by individuals and organisations who strongly believe in supporting CSU and its students.
Who can apply
Any Australian/New Zealand citizen or Australian permanent resident who has applied for admission to CSU or who is enrolled in a CSU course. Both on campus and online students are eligible unless otherwise stated in individual scholarship criteria
Any international students who are classified as an international student in Australia with either a full unconditional offer from CSU to study in Australia or continuing enrolment as a full-time student at a CSU campus. The exemption is scholarships involving work placement due to citizenship requirements for work purposes.
Who cannot apply
International students studying via online from their home country.
International students studying via CSU's international partners in their home country.
Will I be notified that my application has been received?
Yes. You will be notified by email when your online application has been successfully submitted. You will also receive an email reminder for draft applications prior to the scholarship close date.
Can I be awarded more than one scholarship?
It depends on the particular scholarships as each scholarship has its own conditions which state whether the student can hold other scholarships or not.
This information is outlined in the eligibility criteria for each scholarship and it is incumbent upon the applicant to ensure they meet the criteria for each scholarship they apply for.
How are applications assessed?
Applicants must read scholarship criteria carefully before applying as scholarships are awarded based on the criteria for each scholarship.
Successful applicants are selected after a series of shortlisting processes, including a review by CSU staff and donors.
From the final shortlist of strong applicants, it is up to the donor to determine the scholarship recipient(s). Sometimes this process will include donors interviewing the strongest candidates.
Conditions of scholarship
Recipients must write a thank you letter to their donor. Letters are to be emailed to the CSU Foundation Trust scholarship office at scholarships@csu.edu.au which will be forwarded onto the respective donors.
How will my Scholarship be paid?
Most Scholarships valued at $5000 or less are paid in full, unless otherwise specified. Scholarships valued at more than $5000 or with a specified tenure will be paid in two instalments per annum (check the scholarship webpage for payment details).
Scholarships are subject to the student maintaining satisfactory academic progress and continued enrolment in their course. If these conditions are not met, Scholarships may be suspended or terminated.
Can I defer my scholarship offer?
Typically, no. The vast majority of scholarships cannot be deferred. Please refer to scholarship conditions for further clarification around deferring or suspension of a scholarship.
Can my scholarship be suspended or terminated?
Yes, if you fail to meet the criteria for your scholarship.
Suspension may occur if the recipient fails to maintain satisfactory grades or the GPA specified in the scholarship criteria.
Suspension or termination of a scholarship will occur if the recipient is excluded from their course. The scholarship may be reinstated if the recipient resumes their studies following an exclusion of no longer than one year.
Termination of a scholarship will occur if the recipient withdraws or cancels their enrolment or if the recipient fails to maintain satisfactory grades over a prolonged period. Scholarships will also be terminated if the recipient transfers to another university or place of study. In some instances the recipients will be required to repay the scholarship amount to the donor via the CSU Foundation Trust.
Can I apply for an Approved Leave of Absence (ALA)?
In some circumstances, students may be granted a leave of absence which places their tenured scholarship on hold until they return to study, up to a period of 12 months.
Any request for a leave of absence must be made in writing to the CSU Foundation Trust Scholarship Office stating the expected date of return to study. Following re-enrolment, the student must advise of their return to study to re-activate their scholarship.
The decision to allow a scholarship to be placed on hold is entirely at the discretion of CSU.
If the leave of absence is to be for more than 12 months or if at the end of 12 months the student does not return to study, the scholarship will be terminated.
Frequently Asked Questions
Which students can apply for a scholarship from the Charles Sturt University Foundation?
Students who are Australian citizen or Australian permanent resident who have applied for admission to Charles Sturt University or who are enrolled in a course at the University can apply. Both on-campus and distance education students are eligible.
International students can apply for a Charles Sturt University Foundation scholarship if they are classified as an international student in Australia, have a full unconditional offer from CSU to study in Australia or are a continuing enrolled full time international student at a CSU campus (the exception may be a scholarship involving work placement, in which case the requirement to be an Australian Citizen for the purposes of work will be included in the criteria).
How many times per year are scholarships offered?
Each scholarship is only offered once per year
When will I be notified of my applications outcome?
Scholarships closing in late November and mid January will be notified from January 30. Scholarships with a closing date of February should be notified by mid-late April.
Am I eligible to receive more than one Charles Sturt University Foundation scholarship?
In most cases students are only eligible to receive one Charles Sturt University Foundation scholarship each year. However, circumstances may arise where a student is awarded two scholarships in the one year. This is not the norm.
Students who are recipients of a tenured or on-going scholarship that is still current are not eligible to apply for further scholarships during the tenure of their awarded scholarship.
How do I apply for a scholarship that has Hardship as criteria?
If you are experiencing financial hardship, please complete the Hardship section of the online application if you wish to be considered for these scholarships.
Similarly, if you have a disability, please complete the Disability section of the application form.
What is my ATAR and how important is it?
It is important that you have an ATAR mark if you are applying for a Charles Sturt University Foundation Scholarship.
The ATAR is a rank that allows the comparison of students who have completed different combinations of HSC courses. It is calculated solely for use by institutions to rank and select school leavers for admission to tertiary courses.
If you are a commencing student and apply before you receive your ATAR results, please use the ATAR mark which you obtain following your HSC trials. If your application is successful, you may be asked to provide the original of your HSC ATAR results.
What is a Grade Point Average and how important is it?
It is important that you know your GPA if you are continuing student applying for a Charles Sturt University Foundation Scholarship.
A GPA is a numeric value which is assigned to each grade that a student achieves e.g. Distinction = 6, Credit = 5, Pass = 4. A GPA is calculated by dividing the total marks by the number of subjects completed.
Am I eligible to apply as a commencing student if I have received credit for previously completed study?
No, however you may apply for Scholarships open to Continuing and Any Year.
Where else can I look for financial support?
A selection of scholarships offered independently of the Charles Sturt University Foundation are listed on Scholarships & Grants
For more information on Scholarships and other resources with helping with the costs of University try Scholarships & help with costs
What effect will a scholarship have on my financial assistance from Centrelink?
To assess whether your Centrelink payments or other tax arrangements will be affected, we advise you to seek independent advice. You may find information from the Australian Government Department of Human Services on this link helpful.
What effect will a scholarship have on my tax?
For information on the effect on your tax use the tool found on the ATO (Australian Tax Office) website scholarship tax tool . If you are unsure, consult an independent tax Adviser.
Tips on applying for a scholarship
Pay close attention to scholarship application closing deadlines. Applications submitted past the deadline are usually not considered.
Prepare your Resume - this is a good way to outline your thoughts, your activities and achievements.
Always proofread your answers to the questions.
Keep a copy of everything you submit.
For more read the information provided on the How to Apply tab on each scholarship
How do I get Paid?
Scholarships with a value less than or equal to $5,000 will be paid in full unless otherwise specified, shortly after you receive official notification that you have been awarded. Scholarships greater than $5,000 will be paid in two instalments each year.
Scholarships which have tenure over a specified term are subject to the student maintaining satisfactory GPA of 4.0 and above, and a continued enrolment in the program. If these conditions are not met, Scholarships may be suspended or terminated.
How to Apply
Step 1
Read the criteria carefully for each scholarship you wish to apply for to ensure that you are eligible.
Scholarships may require additional responses including essays.
Follow our 5 tips to help your application
Step 2
Step 3
Up to date resume
ATAR or equivalent (If you have left school in the last year)
Your current GPA (Continuing students ONLY)
If your selection criteria involves Local Government Areas (LGA), please supply ONE of the following:

electricity bill
phone bill
rates notice
school record
Applications closed at 11:59pm 7 Dec 2020
Already applied?
I am a first year student in 2022
Login to see your Foundation or Equity Scholarship and Grant applications